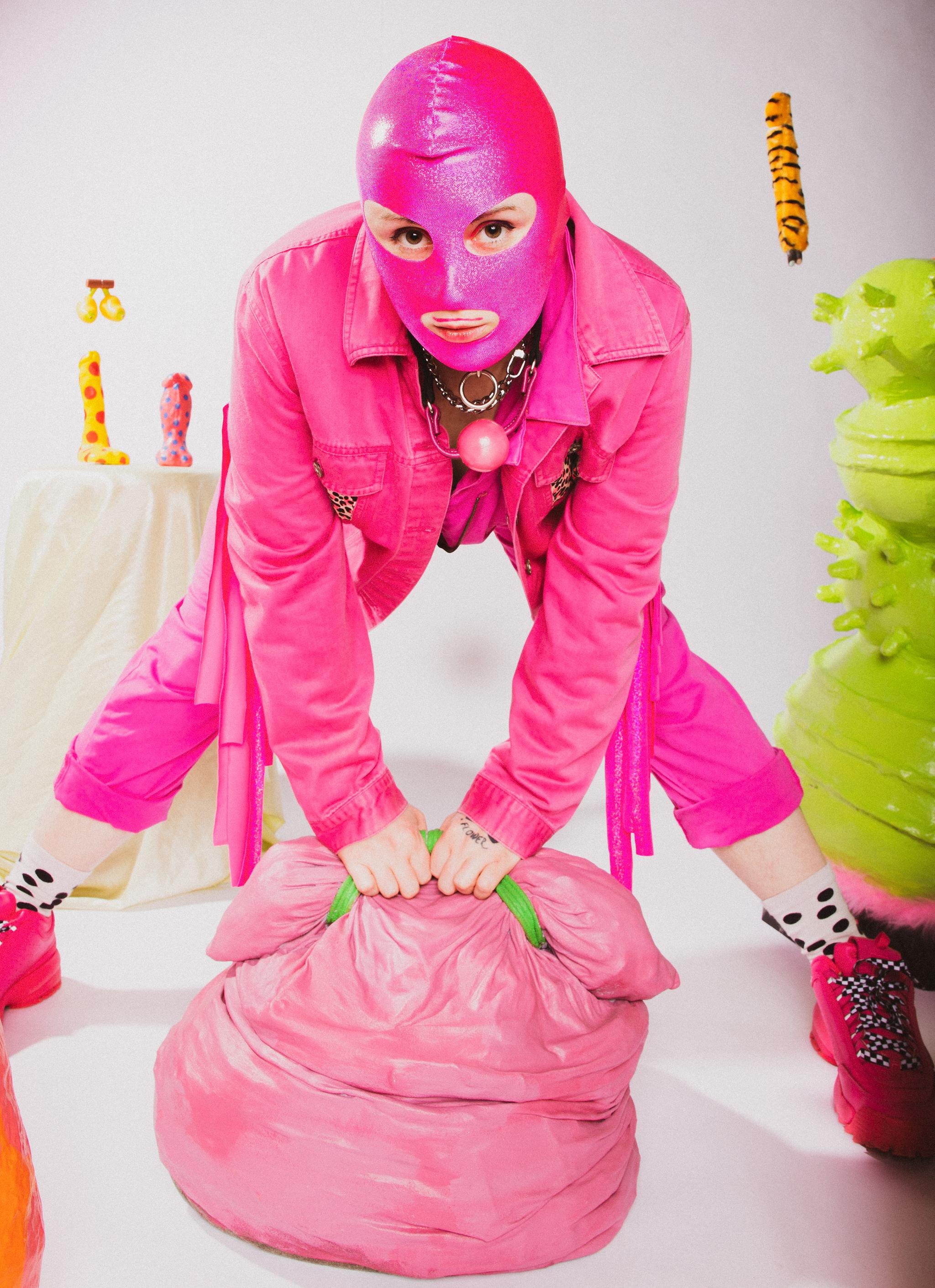 Bio
Working with any material they can get their hands on, Boone's paintings, sculptures and videos explore connections between gender, discomfort, and play. Celebrating the glitch, the artist manipulates their digital body like clay, mirroring the metamorphic nature of being transgender. 3D Printing has become a door for Boone to navigate the membrane between digital and physical.
Boone grew up in Midcoast, Maine and received their Bachelor of Fine Arts in Painting from the Maine College of Art in 2016. They had their first solo exhibition, Gendered Fluid, at New System Exhibitions in Portland, ME in 2021. The artist recently moved to Buffalo, NY, and has plans to pursue a graduate degree there.
Artist Statement
I use an interdisciplinary practice to explore queer world-building and search for where I exist outside the gender binary. My process fluctuates between digital and physical to create each piece. I can transform my shape as I please through digital production: emulating, tweaking, hitting ctrl-z. With 3D printing, I have explored making the utopic body limitless. I can squirt my creations out into the physical world. The result is a colorful, carnivalesque agglomeration of body and pattern; sickening but possibly arousing. Mix and match taken to the extreme, bodies are glitched into impossible, fleshy compositions; parts are added, duplicated, removed.
Legacy Russell's Glitch Feminism has given me a framework to explore gender and the physical body through the lense of a computer glitch. If a glitch is a computer misbehaving, gender nonconformity is a malfunction of the binary. Unlike a computer, the gender binary does not need to function properly. The membrane that separates digital from physical reality grows thin.
"Skin is a container. It is a peel that contains and cradles wildness. It gives shape to bodies. A break, tear, rupture, or cut in skin opens a portal and passageway. Here, too, is both a world and a wound. . . . Most literally within a technological arc, the presence of a glitch makes the 'digital skin' visible, reminding us of the fallibility of the machine and a presence of its hardware, revealing its edges and seams. We rely on the error of glitches to show us the machinic limitations and in turn, to get a sense of where we might hack further in pointed undoing. Through a more figurative lens, the presence of error offline—as an unrecognizable body, a body without a name—reveals cracks in the seemingly glossy narrative of the absolute fixity of gender binary, exposing it as a carefully constructed fiction."
My work misbehaves, exposes itself. I intentionally glitch and reconstruct my form to stretch the limitation of what it means to have a gendered body. Body horror competes with playful color and pattern to create a duality that reflects the uncertainty of existing and presenting as queer. Resisting an either/or. Taking pride in having a monstrous body. Reframing forms relegated to cheap, novelty masturbators as completely unfuckable. Mouths and genitals lumped in a pile. I leave the viewer unsure whether they should want to touch or recoil.
My practice focuses on modifying and rearranging the body to render gender irrelevant. Body as home, and home as utopia. I search for the edges and limitations of my skin in order to shift them. Digital production and 3D printing offer opportunities for the infinite body. The corporeal form twists, morphs and fluctuates between each of my sculptures. My face is distorted and masked in my paintings. The gimp masks provide shelter for inner transformation. My body reforms as an endless expanse, a puddle of ooze. Viscous— unable or unwilling to solidify permanently.
CV
Education
2016
Bachelor of Fine Art in Painting, Maine College of Art, Portland, Maine
Exhibitions​
2022
Open Essex, Buffalo Institute for Contemporary Art, Buffalo, New York
Intergalactic Open, Shockboxx, Hermosa Beach, California
Word of Mouth, Women Made Gallery, Chicago, Illinois
Failings, Ejecta Projects, Carlisle, Pennsylvania
Let Them Eat Fake, Bad Art Presents at The Bomb Factory, Archway, London

2021
Gendered Fluid, Solo show at New System Exhibitions, Portland, Maine
"undercurrents", Able Baker Contemporary, Portland, Maine
​2020
Celestial Opera, Human Cathedrals, Paradise Palace, Virtual Exhibition
​2019
Sapphic Laundry Basket, The Apohadion, Portland, Maine
A Salon at Sugar Mountain, The Magenta Suite, Exeter
2018
Our Souls To Keep: Online Exhibition, Field Projects, http://www.fieldprojectsgallery.com/our-souls-to-keep-online
World-Making: A Moon Show, New Fruit, Portland, Maine
2016 Permanent Mural at Free Street, Reny's, Portland, Maine
BFA Thesis Exhibition, Maine College of Art, Portland, Maine​
Publications
2021
H. Boone, Gallery Baird, June 1st, 2022 Link

Art Review: Two galleries entice viewers with a wealth of experiences, Portland Press Herald, August 8, 2021 link​
2018
Sapphic Laundry Basket, Tak-Tak, July 29, 2018 http://www.taktak.nu/sapphic-laundry-basket/
2016
MECA Index: BFA Thesis Exhibition 2016, Maine College of Art, http://index.meca.edu
Work featured in: Look: Your Guide to Gallery Hopping, Old Port Magazine, May 2016 , 28 Work featured in: Student Achievements: The 2016 MECA Thesis Exhibitions, Maine Home and Design, May 2016, 136
2015
Quoted in: The Art of Thinking About Art, Eric Severen, The Portland Phoenix, November 5, 2015
Awards
2015
Debra Bates Endowed Scholarship for Painters
Merit Show Award, Maine College of Art, Portland, Maine
Nominated to apply to Yale at Norfolk Program, Maine College of Art, Portland, Maine
2014
Alfred "Chip" Chadbourne Endowed Scholarship for Painters
2013
Mildred A and Harold P Nelson Endowed Scholarship
Collections
2021
Veronica Perez, Maine
Alexander Roche, Maine
Jesse Weiss, Maine
2018
Daniela Flint, Texas
Umi Clark, Florida
2015
Jacki Weichmann, Maine
Hayley Cummings, Maine ​​​​