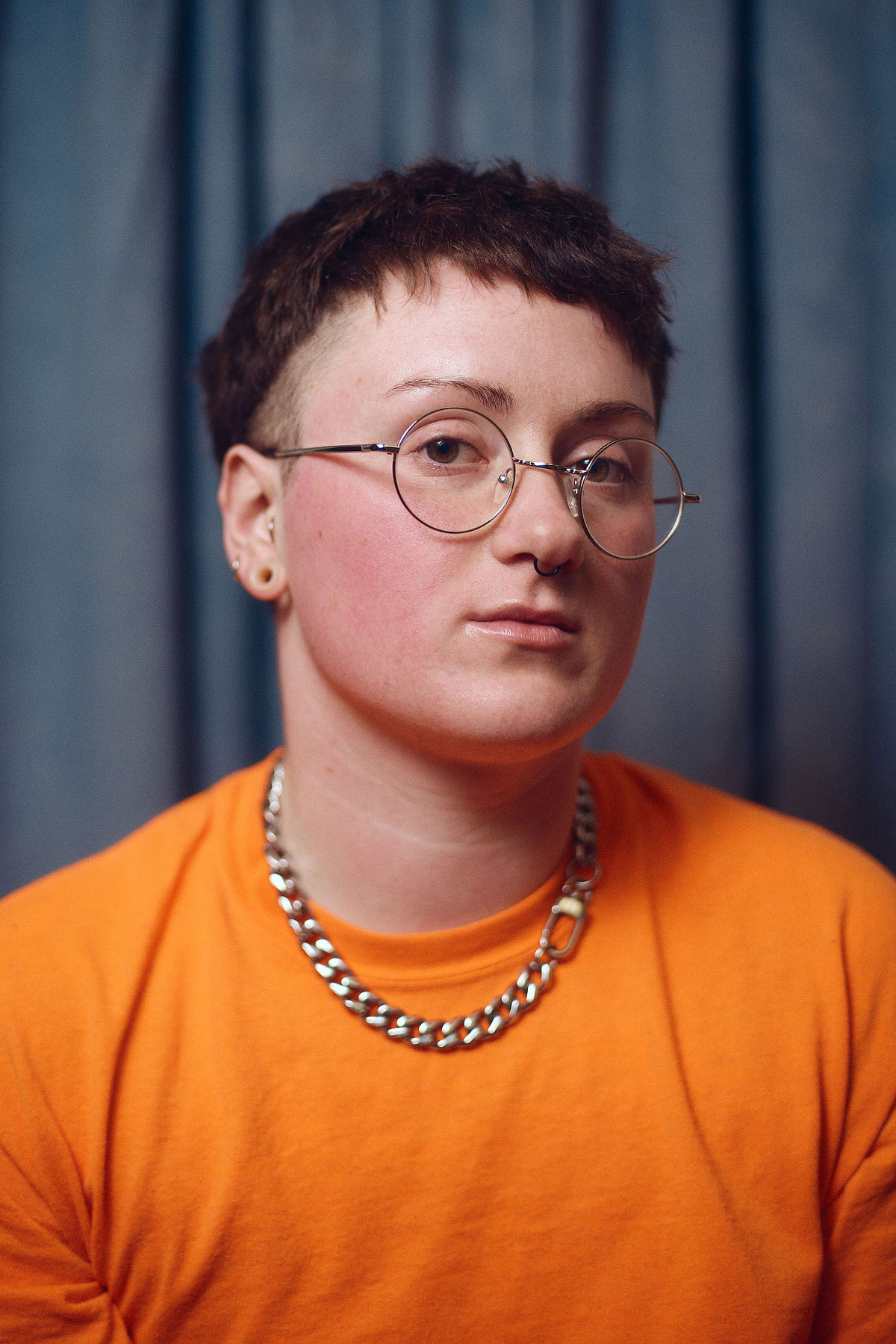 Bio
H Boone (they/them) is an interdisciplinary artist that utilizes 3D printing and scanning to navigate the membrane between digital and physical. They explore this duality in tandem with a deconstruction of binary gender. The artist intentionally glitches and reconstructs figures to stretch the limitations of the gendered body. Boone is a Schomburg Fellow at University at Buffalo.

Artist Statement
Transhuman: Involving something beyond the merely human; transcending human limitations or boundaries.
Trans human: someone whose gender identity or expression does not correspond with the sex they were assigned at birth.
Repeated and fractured, the work in TRANS/HUMAN by H Boone explores the body as a site of perpetual flux. Some iridescent, some distressed, the finish of these sculptures are alien: reminiscent of insects, corrupted files, and geological formations. Monolith appears to be petrified – toxic. Vials of hormones and liquor are embedded into its body. Occupying the Project Space at BICA, these works upset the natural scale of the body. The painting, Slippage, towers over 3D printed sculptures that range from life sized to miniature. The bodies writhe and contort, caught mid transformation. These biomorphic sculptures begin as 3D scans of trans and gender nonconforming locals from Buffalo. Boone distorts and sculpts on the files digitally, then squirts them out into tangible 3D printed sculptures. This ongoing project reflects the artist's attempts to combine science fiction, queer world building, and creating trans community through art.
TRANS/HUMAN imagines a future where gender is untethered from the body and humans are able to transform at will. This future presents itself as destabilized, fragmented, and ethereal. The digital/physical duality of these works reflects the fluctuating nature of being gender nonconforming. It moves beyond the bare minimum of representation to glorify trans metamorphosis. Currently, identifying openly as trans and having a trans body is radical and needlessly politicized. The artist rejects mere tolerance and hinging trans safety on the apology of being born this way. Shapeshifters have always been here, and will continue to be.
CV
Education
2012-2016
Bachelor of Fine Art in Painting, Maine College of Art, Portland, Maine
2023-
Master of Fine Arts, University at Buffalo, Buffalo, New York
Exhibitions​
2023
Viewfinder, Portland Public Library, Portland, Maine
TRANS/HUMAN (Solo Show), BICA Project Space, Buffalo, New York
Lovesick, Rivalry Projects, Buffalo, New York
Stay Gold, Burchfield Penney Art Center, Buffalo, New York

2022
Open Essex, Buffalo Institute for Contemporary Art, Buffalo, New York
Intergalactic Open, Shockboxx, Hermosa Beach, California
Word of Mouth, Women Made Gallery, Chicago, Illinois
Failings, Ejecta Projects, Carlisle, Pennsylvania
Let Them Eat Fake, Bad Art Presents at The Bomb Factory, Archway, London

2021
Gendered Fluid, Solo show at New System Exhibitions, Portland, Maine
"undercurrents", Able Baker Contemporary, Portland, Maine
​2020
Celestial Opera, Human Cathedrals, Paradise Palace, Virtual Exhibition
​2019
Sapphic Laundry Basket, The Apohadion, Portland, Maine
A Salon at Sugar Mountain, The Magenta Suite, Exeter
2018
Our Souls To Keep: Online Exhibition, Field Projects, http://www.fieldprojectsgallery.com/our-souls-to-keep-online
World-Making: A Moon Show, New Fruit, Portland, Maine
2016
Permanent Mural at Free Street, Reny's, Portland, Maine
BFA Thesis Exhibition, Maine College of Art, Portland, Maine​
Publications
2022
Work Featured in: Art Review: Bad Art Presents Let Them Eat Fake, London Art Roundup, May 10, 2022 Link
H. Boone, Gallery Baird, June 1st, 2022 Link

2021
H. Boone, Gallery Baird, June 1st, 2022 Link

Art Review: Two galleries entice viewers with a wealth of experiences, Portland Press Herald, August 8, 2021 link​
2018
Sapphic Laundry Basket, Tak-Tak, July 29, 2018 http://www.taktak.nu/sapphic-laundry-basket/
2016
MECA Index: BFA Thesis Exhibition 2016, Maine College of Art, http://index.meca.edu
Work featured in: Look: Your Guide to Gallery Hopping, Old Port Magazine, May 2016 , 28 Work featured in: Student Achievements: The 2016 MECA Thesis Exhibitions, Maine Home and Design, May 2016, 136
2015
Quoted in: The Art of Thinking About Art, Eric Severen, The Portland Phoenix, November 5, 2015
Awards
2023
Schomburg Fellowship at University at Buffalo
2022
BICA Summer Microgrant
2015
Debra Bates Endowed Scholarship for Painters
Merit Show Award, Maine College of Art, Portland, Maine
Nominated to apply to Yale at Norfolk Program, Maine College of Art, Portland, Maine
2014
Alfred "Chip" Chadbourne Endowed Scholarship for Painters
2013
Mildred A and Harold P Nelson Endowed Scholarship
Collections
2023
Heather Gring, New York
2022
Clea Massiani, Washington DC
Kailin Kucewicz, New York
2021
Veronica Perez, Maine
Alexander Roche, Maine
Jesse Weiss, Maine
2018
Daniela Flint, Texas
Umi Clark, Florida
2015
Jacki Weichmann, Maine
Hayley Cummings, Maine ​​​​